O valor total bloqueado (TVL) no Optimism, uma solução de dimensionamento de camada 2 para o blockchain Ethereum, aumentou 284% no último mês, de acordo com dados da DefiLlama. Os usuários que emprestam e emprestam ativos no Aave por meio da cadeia de camada 2 do Optimism compõem a grande maioria do TVL.
Ethereum Optimism TVL Surge
Antecipando a atualização The Merge, que fará com que o blockchain mude de uma rede de prova de trabalho para uma baseada em prova de participação, os investidores estão oferecendo ativos digitais vinculados ao ecossistema Ethereum.
A fusão será testada pelos desenvolvedores do Ethereum na rede de testes Goerli na quinta-feira, 11 de agosto. Se tudo correr conforme o planejado, a fusão da rede principal será aprovada em 19 de setembro. A fusão da rede principal provavelmente será adiada se houver problemas com a fusão do Goerli .
A data de lançamento antecipada do Merge foi marcada para 19 de setembro, de acordo com uma recente ligação do desenvolvedor do Ethereum. Com Rollups, ou computações fora da cadeia, o Optimism, uma blockchain de camada 2 da Ethereum, visa estender o ecossistema e agilizar as transações. No Optimism, as transações são inseridas e no Ethereum, elas são concluídas.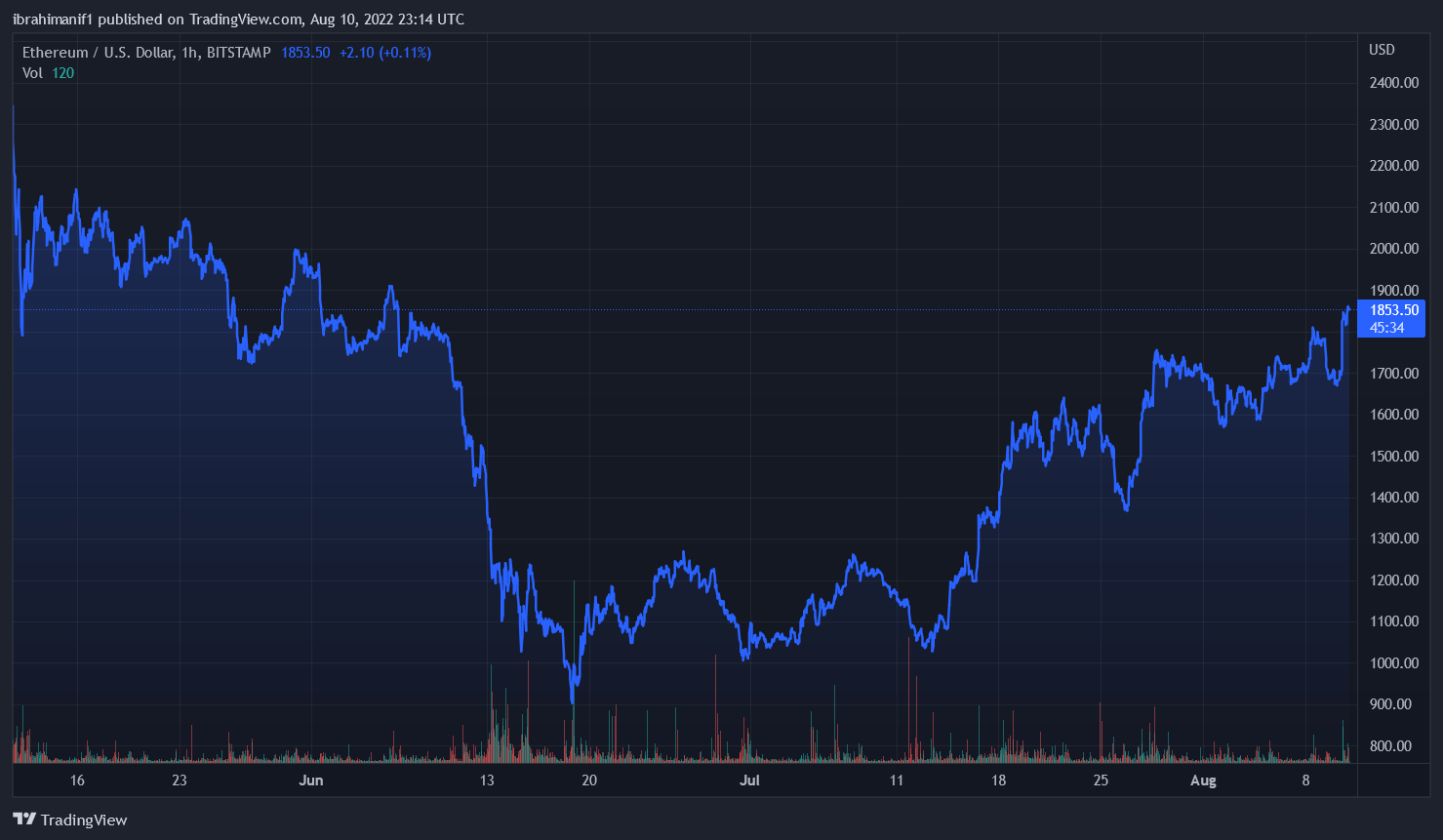 ETH/USD trades at $1,853. Source: TradingView
O projeto abriga 35 protocolos, incluindo o criador de mercado automatizado Velodrome, a exchange descentralizada Uniswap e a exchange de derivativos Synthetix. A capacidade atual do blockchain Ethereum de 30 transações por segundo é inadequada para gerenciar a enorme quantidade de pedidos de negociação de usuários em trocas (incluindo cancelamentos). No entanto, de acordo com alguns analistas, a rede pode ser dimensionada para 100.000 transações por segundo com a atualização The Merge, com soluções de camada 2 melhorando ainda mais essa capacidade.
Blocos de otimismo são construídos e executados na camada 2 enquanto as transações do usuário são agrupadas e enviadas para a camada 1 do Ethereum. Na camada 2, as transações são imediatamente aceitas ou rejeitadas sem mempool, permitindo uma experiência de usuário rápida. Correspondentemente ao desenvolvimento do TVL, os tokens homônimos do projeto também aumentaram 300% durante o mesmo período.
Dai no Otimismo 👀

De 30 milhões para 140 milhões em 5 dias. pic.twitter.com/AQlNWvX6c9

— Criador (@MakerDAO) 9 de agosto de 2022
Goerli Testnet: Um Breve
A rede Ethereum estará um passo mais perto de sua maior atualização em menos de 24 horas. A segunda maior criptomoeda por capitalização de mercado está se preparando para mudar da Proof-of-Work (PoW) para a Proof-of-Stake (PoS) significativamente menos intensiva em energia e, na opinião de algumas pessoas, mais descentralizada.
Desenvolvedores seniores do Ethereum afirmaram no mês passado que o chamado "Merge" para "Ethereum 2.0" ocorrerá em 19 de setembro. No entanto, ainda há um desafio para os desenvolvedores superarem antes que o "Merge" possa ser implementado na rede principal do Ethereum.
Os desenvolvedores querem implementar a fusão em uma última rede de teste depois de concluir a mudança de PoW para PoS em duas das principais redes de teste da Ethereum (Ropsten e Sepolia) em junho e julho.
De suas baixas de meados de julho, abaixo de US$ 1.000, o Ethereum aumentou mais de 80% e, na última verificação, estava sendo negociado em meados dos anos 1.800. Embora a maior parte disso tenha coincidido com uma recuperação maior do mercado de criptomoedas em meio a um aumento no clima macro (o Bitcoin subiu mais de 25% em relação às mínimas de meados de julho), os analistas indicaram que a antecipação antes da fusão tem sido um fator importante para impulsionar o ETH. .


Com informações de News BTC.