Tokens não fungíveis ou NFTs nunca foram tão populares, graças em grande parte ao interesse e exposição dos últimos dois anos, particularmente na cena de arte e colecionáveis. Também obteve grande sucesso no mesmo período no setor de jogos blockchain.
Embora a tecnologia em si exista desde pelo menos 2016, a arte NFT e, especialmente, mais recentemente, os jogos NFT, surgiram como uma evidência sólida de que a utilidade no espaço criptográfico transcende a compra e venda de ativos digitais para algo um pouco mais tangível e relacionável.
Para ser justo, o mercado de NFTs que se expandiu para um bilhão de dólares continua sendo predominantemente no setor de arte digital – GIFs e JPEGs colecionáveis ​​que comprovam a propriedade de peças de arte únicas que celebram a cultura da internet e dos memes criptográficos.
No entanto, já existe uma mudança acontecendo no que faz um NFT, e o blockchain MMORPG Cradles está impulsionando essa mudança com uma inovação que vai além de uma simples representação de arte única.
Isso não quer dizer que imagens estáticas (ou, na verdade, coordenadas que apontam para um selo imortalizado da imagem original) não tiveram seu papel no sucesso dos NFTs. De fato, sem a falta de fôlego de como o Bored Apes Yacht Club varreu o mundo, ou como os CryptoPunks abriram caminho para a criptomoeda pop, as NFTs poderiam ter permanecido dentro dos limites da tecnofonia e da nerd da internet.
No entanto, o protocolo ERC-721 amplamente adotado (entre outros protocolos), que estabelece os padrões de token para NFTs como os conhecemos, nunca foi projetado para fazer mais do que representar representações exclusivas de itens físicos no espaço digital ou Web3.
Assim, as NFTs em sua forma atual estão presas a seu próprio conjunto de limitações, restritas na forma à quantidade minúscula de dados que seus protocolos permitem em cada token.
Embora os jogos NFT também tenham adotado aplicativos descentralizados e Web3 em alguns marcos notáveis ​​– os Dapps de jogos ainda são os aplicativos mais usados ​​​​no espaço descentralizado – o aspecto mais bem-sucedido de um NFT (não fungibilidade) está impedindo-o de alcançar conquistas mais altas.
Para um NFT ser dependente apenas de seu aspecto de raridade percebida (novamente, uma questão altamente subjetiva) simplesmente não é suficiente para sustentar o interesse e mais tecnologia – e em jogos, onde inventividade e criatividade são os únicos marcadores de progresso, NFTs em suas os limites atuais estão no final do caminho da inovação. A diminuição dos mercados especulativos para NFTs agora é prova disso.
É aqui que a proposta EIP-3664 – desenvolvida pela DRepublic, os criadores do blockchain MMORPG Cradles – entra em cena para fornecer um novo padrão para NFTs e como eles são definidos.
O que é EIP-3664?
Como cada EIP anterior, o EIP-3664 vem com avanços para tokens no blockchain Ethereum (e essencialmente a maioria dos principais blockchains alternativos compatíveis com o ambiente Ethereum).
Em vez de meros NFTs estáticos em jogos representando entidades únicas cujas características não podem ser alteradas, o EIP-3664 permite que NFTs sejam usados, manipulados e interagidos pelos jogadores.
Os jogadores seriam capazes de criar NFTs "componentes", criando-os a partir de matérias-primas básicas (eles próprios NFTs maleáveis) e alterando as características de um NFT dentro de um jogo simplesmente adicionando e removendo outros componentes. Dessa forma, os NFTs se tornam dinâmicos de uma maneira que pode ajudar na evolução contínua da jogabilidade, mantendo suas capacidades originais e sendo vendidas ou transferidas para outros jogadores.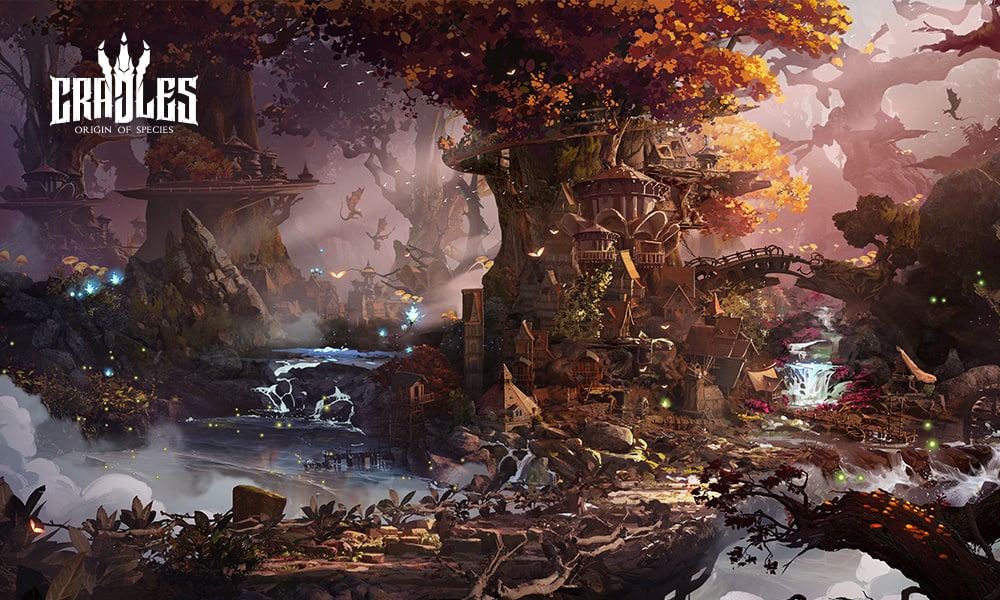 Mudando o jogo com EIP-3664
O trabalho de DRepublic na proposta EIP-3664 pretende ser o núcleo tecnológico de seu próximo jogo, Cradles: Origin of Species. Em seu mundo virtual, os jogadores finalmente poderiam criar e interagir com cada elemento, montando e desmontando itens, materiais e até personagens. Cada um desses elementos seriam tokens personalizáveis ​​e combináveis ​​de maneiras ilimitadas.
Sob o capô, NFTs com recursos fungíveis e não fungíveis serão usados ​​para representar todos esses edifícios, itens, roupas, equipamentos, equipamentos e personagens, permitindo que todos evoluam e mudem continuamente.
Em vez de um servidor centralizado determinando fases de tempo, esses NFTs tentarão um metaverso fundamental ainda a ser alcançado em um jogo. O mundo único de "aumento de entropia" de Cradles verá os jogadores, seus itens e seu ambiente evoluindo constantemente à medida que o tempo (de bloco) passa.
O fundador da Cradles, TY, explica como o EIP-3664 cria essa possibilidade, permitindo que "NFTs carreguem significativamente mais informações, resultando em vários novos tipos de NFTs que podem ser montados e combinados livremente, dando-lhes propriedades variáveis ​​que permitiriam quase todas as funções que se deseja em um NFT."
Uma nova era de NFTs
Um fato importante sobre os NFTs criados como tokens EIP-3664 é que eles não perdem seu valor de coleta. Em vez disso, eles expandem as possibilidades para esses NFTs, especialmente quando se trata de jogos. Eles basicamente pegam esses NFTs, que de outra forma teriam pouca ou nenhuma utilidade real além da especulação, e os colocam em um mundo onde eles podem fornecer utilidade real como itens facilmente personalizáveis ​​no jogo e como blocos de construção para um metaverso em constante evolução.
Jogadores em jogos usando NFTs EIP-3664 podem forjar itens dentro dos jogos como NFTs usando outros tokens. Eles podem remover e adicionar atributos de outros itens ou materiais em um NFT, desmontar um NFT para redistribuir seus atributos para outros NFTs ou vender esses atributos para outros jogadores. Ele preserva a ideologia colecionável que tornou os NFTs tão populares quanto agora, mas adiciona uma nova camada para garantir que os NFTs permaneçam valiosos ao longo do tempo.
Digite Dragontar NFTs
Os NFTs Dragontar são a primeira implementação dos tokens EIP-3664, não a blockchain Ethereum. Foi lançado através de um portal chamado Dragontar Club, que agora é conhecido como o primeiro NFT combinável do mundo.
Os NFTs Dragontar são uma representação direta do crescimento que a comunidade Cradles tem desfrutado e o desejo dos membros da comunidade de possuir seus NFTs. A coleção NFT, que está listada no mercado TofuNFT, é uma introdução ao mundo de que as NFTs não precisam se limitar às características atribuídas a elas na criação, mas podem ser aprimoradas conforme os jogadores acharem melhor.
"Ao contrário de outros NFTs que só podem ser negociados depois de comprados, os jogadores podem realizar operações em NFTs EIP-3664", disse YT "Como eles precisarão de um local de trabalho para isso, publicamos nossa plataforma tudo-em-um: Metacore, uma marca novo mercado e local de trabalho para 3664 NFTs. Qualquer pessoa com um Dragontar pode visitar, clicar no local de trabalho e realizar operações em seus NFTs."
Com a rápida aproximação do Ethereum Merge, espera-se que novas inovações como o EIP-3664 sejam destacadas por suas ofertas exclusivas. Um exemplo são os NFTs modulares usados ​​pela DRepublic no jogo Cradles: Origin of Species, que já procura liderar e inaugurar a próxima geração de jogos blockchain.
Com informações de News BTC.